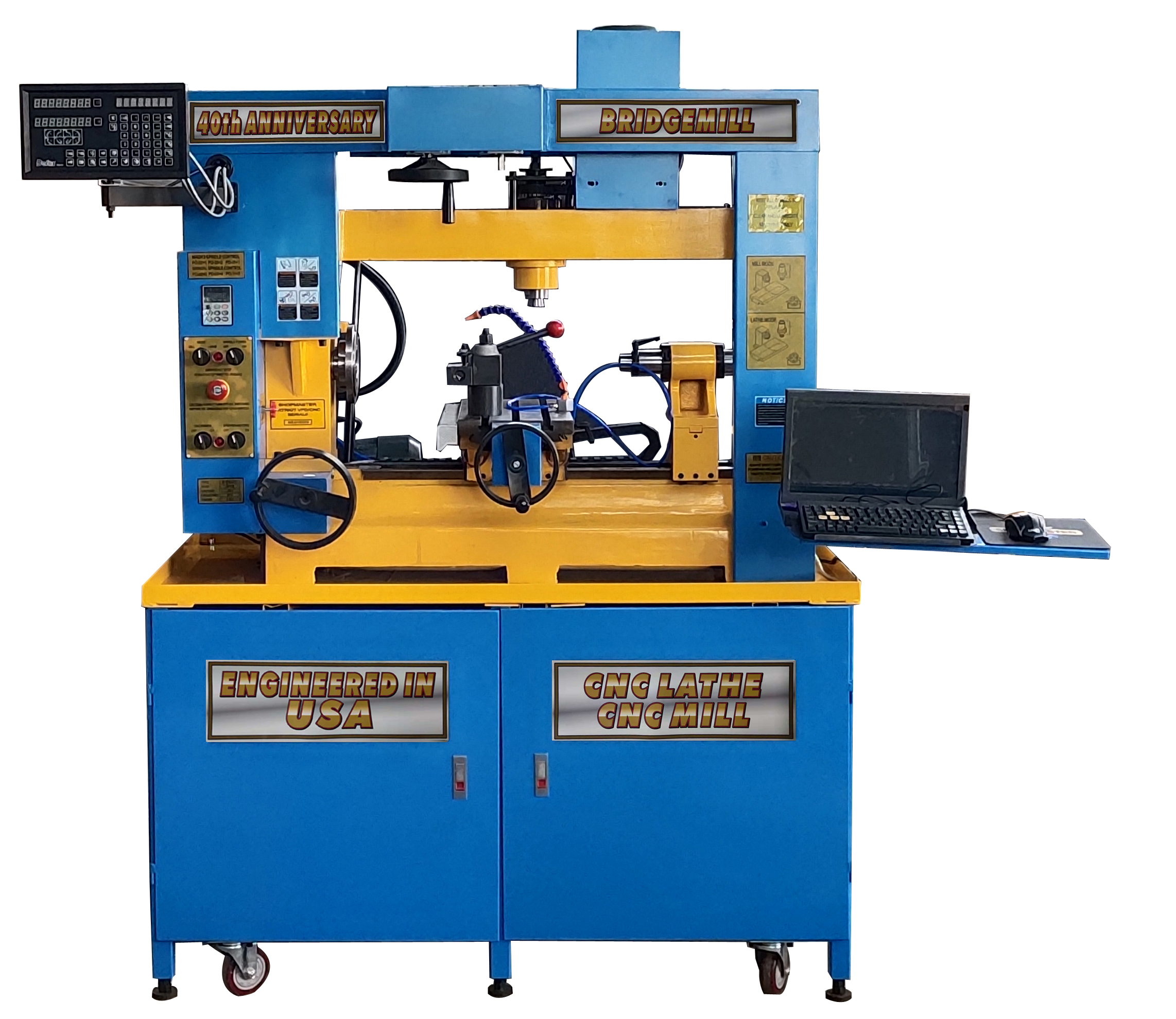 43rd ANNIVERSARY    SPECIAL PRICING
                                       8995.00
NOW WITH POWER DRAWBAR and BT-30 SPINDLE STANDARD!!
NEW 2.75 HORSEPOWER MOTORS FOR FASTER CUTTING
FULL CNC AND FULL MANUAL CONTROL

COMPLETE WITH COMPUTER + PRE CONFIGURED SOFTWARE

HUGE PACKAGE OF FREE ACCESSORIES INCLUDED

DRO ( Digital Read Out) installed

BALL SCREWS AND LINEAR RAILS

RUNS ON HOUSEHOLD CURRENT
The  BRIDGEMILL 2024 is the most versatile CNC milling machine combined with a CNC lathe in one compact package. The BRIDGEMILL can operate in a wide variety of environments, from CNC engraving or as a CNC router to much heavier jobs such as milling aluminum, steel and many other materials. With the CNC rotary table you can cut gears, splines and other complex 4 axis projects.
The mill can do CNC tapping and thread milling as well as all the standard milling functions and has full manual functions along with CNC controls.  The lathe can do boring, turning and taper turning as well as threading of all inch, metric right or left hand.  The CNC tool post in conjunction with the standard AXA quick change tool post gives you a full range of gang tooling options.
 We offer a full line of tooling and special accessories such as CNC tool posts, 5C Collet Systems, CNC Rotary tables and many other tools. Whether you are a home hobbyist or starting a home business, CHICAGO LATHE is your best choice. Our machines offer professional quality at a reasonable price and our customer service is second to none with the same dedicated people who have been here for 43 years.
If you are looking for a combination lathe mill machine and want both manual and CNC controls for your home shop or small business, then the CHICAGO LATHE is the machine for you.  We offer financing for both individuals and small business owners.
The CHICAGO LATHE  BRIDGEMILL 2024 is the leading machine in the 3 in 1 combination category.

This USA DESIGNED machine with USA MADE CNC DRIVES offers a tremendous amount of machining capability in a compact package designed for the home, small shop, R&D center or educational institution.    It comes fully tested and ready to run with DRO, Mach 3 CNC and Gecko drives and large set of tools for turn key operation.  Built with the finest quality castings, precisely machined to high tolerances.
. DESIGNED IN USA WITH USA MANUFACTURED CNC  DRIVES installed and  equipped with a computer with Mach 3 software installed and configured for the machine. Only a few hours required to uncrate the machine, assemble the bench and you will be writing CNC programs.
COMES COMPLETE WITH VARIABLE FREQUENCY DRIVES
Efficient system converts your single phase

household 220 volts to industrial 3 Phase output.

POWERFUL 2.75 HORSEPOWER MOTORS!                                     40% MORE POWER FOR 2024

3 AXIS C-7 MULTI-TRACK PRE-LOADED BALL SCREWS

POWDER COATED SHEET METAL

It's a complete home machine shop

17 X 30 CNC LATHE and

12 X 30 CNC MILL

All in 1 compact package.
FREE- WITH EVERY  BRIDGEMILL 2024 an accessory package worth over 3000.00!
VARIABLE FREQUENCY ( VFD) SPINDLE DRIVES
TWIN 2.75 HP 3 PHASE SPINDLE MOTORS

BUILT IN 3 PHASE INVERTER

ST 98 CI 4 AXIS STEPPER DRIVEN CNC SYSTEM

COMPUTER WITH WINDOWS 7 AND MACH 3 SOFTWARE PRE-CONFIGURED

TOUCH SCREEN PLUS KEYBOARD, MOUSE, MONITOR AND POWER CABLES

4 AXIS GECKO DRIVES

STANDARD MACH III FREEWARE *

3 AXIS C-7 BALL SCREWS WITH DOUBLE MULTI TRACK BALL NUTS

6 GROUND COLUMNS WITH LINEAR BEARINGS FOR Z AXIS

3 AXIS DRO WITH EXCLUSIVE LATHE-MILL SWAP DISPLAY

1 BT-30 SPINDLE WITH POWER GRIP DRAWBAR     NEW!!!

SWING AWAY COMPUTER AND MONITOR MOUNT

FULL STEEL BENCH WITH CABINET ENCLOSURE

CASTERS ON BENCH FOR EASY MOVING

1 BT 30/ER 20 TOOL HOLDER

                                 NEW!!!

TELESCOPING TAILSTOCK

FOLD AWAY HANDLES ON X,Y AND Z AXES

1 MT 3 DRILL CHUCK ARBOR ( FOR TAILSTOCK)

1 6″ 3 JAW CHUCK & KEY

1 POWER DRAWBAR 

                                          NEW!!!

1 4" PALMGREN STYLE SWIVEL MILL VISE

         NEW!!!

1 MT 3 CENTER

1 DRO SHIELDS FOR X ,Y and Z AXES

1 ONE SHOT OILING SYSTEM FOR X AND Y AXES

1 HIGH PRESSURE AIR TOOL COOLANT SYSTEM WITH MAGNET BASE

1 ADJUSTABLE HEIGHT AXA STYLE QUICKCHANGE TOOLPOST WITH 4 HOLDERS

1 SET TOOLS FOR MACHINE MAINTENANCE

1 MILL SPINDLE LOCK WRENCH

1 QUICK RELEASE AIR FITTING FOR COOLANT SYSTEM



1 52 PIECE MILLING CLAMP SET

    NEW!!

 

6 PIECE SET OF BRAZED CARBIDE LATHE TOOLS

  NEW!!

6 PIECE SET OF HIGH SPEED STEEL END MILLS 

    NEW!!